You all are the best, you know that? I really appreciate all the advice on my post from yesterday on what I still need to do before Baby Itz's appearance. Let's just say that things are getting very real very quickly and lil man will probably be here before his expected due date. I've been crazy busy and will continue to be until he comes with all of the preparation that still needs to be done. Deep breaths… Deep breaths…
Food lately has been…. undocumented (unlike my pregnancy – ha!).  I've eaten lots of good food recently, too; I just haven't been snapping the camera. Last Friday, Jonny and I went out to a terrific little Jamaican restaurant with Jonny's parents. Saturday night included barbecue at my parents. Sunday was my baby shower and Sunday night was a delicious dinner out with my family.  And this week? Well, itz been whatever is fast and easy.
Breakfast: Oatmeal with bananas, cinnamon, and peanut butter.
Itz comforting, easy, delicious, filling, need I say more? And itz a recycled photo, but it all looks the same anyway!
My snacks at school yesterday morning included an orange and popcorn. Random.
Linking up to Peas & Crayon's What I Ate Wednesday!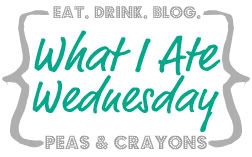 I felt like I'd been eating pretty heavy lately, so yesterday for lunch I wanted something on the lighter side. That's how this delicious creamy crunchy parfait was born.
Creamy Crunchy Parfait
1st layer: cottage cheese & walnuts
2nd layer: strawberry yogurt & hemp hearts
3rd layer: plain Greek yogurt, honey, & almonds
Itz creamy. Itz crunchy. Itz healthy. Itz delicious. 'Nuff said.
I order the hemp hearts from iherb.com. Use my referral code VAJ523 to save money!
Fiber Love Bars recently came out with two brand new flavors: Coconut Macaroon & Apple Crisp and sent me a couple of each to try. Yesterday while I was hooked up to the baby monitor, I was feeling a little snacky, so I opened the coconut macaroon bar.
LOVE! I love love love coconut flavor anyway, and this bar was the bombdotcom, like seriously. (All is good with Baby Itz, by the way!) It reminded me of the inside (the good part) of an almond joy. It was super moist, and honestly just so good. I haven't tried the apple crisp, but if itz as moist as the coconut macaroon, then itz gotta be great!
Dinner was brinner last night. I made eggs for Jonny and I had a bowl of cereal. I wasn't super hungry since after my doctor appointment I went all snack-monster at my parents' house. When hunger rolled in later in the evening, I had a bowl of frosted mini wheats. Can't really ever go wrong with cereal, eh?
Yes, I use a lot of milk. And yes, I even let my cereal sit a bit so it gets soggy. I like it.
What's your favorite cereal? Are you a soggy cereal eater like me?