Look who's sporting a brand new gorgeous headband!  (Yummy food below.)
This girl!  Last night I went to the Athleta launch party in St. Louis as this is their first store in Missouri.  The store was packed and they were on a strict "one in, one out" policy per a fire code.  I ended up waiting about ten minutes before being let in, but munched on some tasty appetizers and a glass of wine that was being served to everyone who was waiting.  Now that's good customer service!  The headband was the only thing I bought since the dressing room lines were super long, as well.  I was definitely impressed by their clothing selection.  It was functional, the material felt good, and it was totally fashionable.  I'd be comfortable wearing it to the gym and out running errands.  Thumbs up, Athleta!
Now on to the yummy food part of this post.  Itz WIAW over at Peas and Crayons!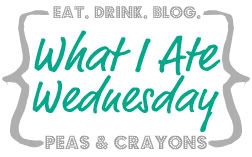 Breakfast:  Vanilla Spinach Protein Smoothie made with Vega Sport protein powder.  I won a giveaway from Amanda's blog Run to the Finish and was sent an awesome Vega package.  This protein knocks my socks off, seriously.  It has some of the best stats I've seen in protein powders (per scoop): 130 calories, 6 grams carbs, and 25 grams protein!  Itz loaded, I tell ya!
Love the green glow and it tastes good, too!  In the smoothie went one scoop of the vanilla Vega Sport protein powder, ice, banana, maca powder, flaxseed, handfuls of fresh spinach, and vanilla almond milk.  Winner winner!
Lunch:  Hodgepodge crockpot dish served over fresh spinach and topped with plain Chobani greek yogurt.  It seems to be a staple around here, but itz just so darn easy to make!  I literally throw in whatever I have on hand.  This week it was dry white beans, dry black beans, frozen veggie mix, diced onion, leeks, diced tomatoes, celery, cabbage, garlic, red pepper, uncooked brown rice, and chicken broth and let it cook for four hours on low.  Wah-lah!  Lunches all week are made!
Snack:  Chobani came out with these new "Bite" cups and I've been searching the local stores for them.  I finally found one flavor: Fig with Orange Zest and omg itz so good!  It tastes mostly orange, but there are fig bits mixed in to sweeten the cup.
Now if only I can get my hands on the new Chobani Flips – still can't find those!
Dinner:  Jonny and I went to a Thai restaurant (Thai Kitchen) on Monday evening as we had a Groupon that needed to be used.  We were the only ones in the restaurant at first… not generally a good sign, especially in combination with a Groupon.  I ordered the "Ginger" dish with stir-fried garlic, onions, mushrooms, carrots, shredded baby ginger, and zucchini.  White rice on the side.
The verdict?  It was very gingery, kind of overpoweringly so.  Jonny liked his dish, but I don't think we'll be running back there any time soon.
Snack/Dessert:  LÄRABAR sent me a few of their new ALT bars.  ALT signifies Alternative Protein Bar.  Itz the first-ever bar with added protein from LÄRABAR! Many bar brands use soy or whey protein, but ALT uses an alternative protein source: peas. Vegan, gluten-free, dairy free, and non-GMO.  Pretty cool, right?
This was AMAZING!  Dense, moist, chewy, absolutely delicious.  In addition to the Cinnamon Apple Crisp, there is also Lemon Pound Cake, Peanut Butter Cookie, and Pumpkin Pie, all of which I'm sure are ridiculously delicious.  I'll be purchasing these on my own, for sure.
Have you tried the new ALT bars?  How about the Chobani Bites or Flips?