As I was thinking what my weekly WIAW would include, I was kicking myself for not taking pictures of my meals from Innsbrook this past weekend.  My parents always put together quite the spread and my brother Jason cooks a delicious and aesthetically pleasing breakfast.  However, my eats yesterday weren't too shabby by any stretch!
I started my morning with a cute baby William and a glass of chocolate milk.
During my pregnancy, I never craved anything. I loved and wanted all food, but never needed any one particular food.  The other morning I woke up totally craving chocolate milk.  So weird and random!  Jonny picked up a jug from Trader Joe's and he's been enjoying it in his coffee and me by the glassful.
I had actually made overnight oats for breakfast, but during one of my middle of the night nursing sessions I felt extremely hungry, so I ate them.  Breastfeeding hunger is no joke!
Breakfast ended up being an awesome egg sandwich.
One dippy egg on a toasted bun with pepperjack cheese, avocado, and raspberry jam.  Sweet, spicy, and savory.  SO GOOD.
My sister introduced me to this yogurt – Dannon Strawberry Cheesecake Greek Yogurt.
Very thick and the flavor rocks.  Two thumbs up.
Linking up with Jenn at Peas and Crayons for What I Ate Wednesday.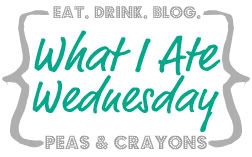 One of my best friends, Barbie, and her husband Chris are in town, so they came over to meet William.  Barbie and I have been friends since preschool; we went to grade school and high school together and will remain friends for life.  She made William smile HUGE so many times, but of course every time I tried to capture it on camera, he stopped.  Little stinker.  And Chris was such a natural snuggling William and putting him to sleep.
Now Barbie and Chris need to move back to St. Louis and start makin' babies, so William can have a best friend growing up just like Barbie and I did.  They also brought a boatload of food.  When I say boatload, I mean it.  I only have one picture because lunch and dinner looked essentially the same. Jonny was very happy to see what was in our fridge when he arrived home from work, and commented, "I always knew I loved Barbie!"
There was pulled pork sandwiches from Pappy's which is the very best barbecue in St. Louis, potato salad, toasted ravioli (itz a St. Louis staple), and salad from Pasta House.
In addition, Barbie and Chris brought four containers of Ted Drewes frozen custard (also a St. Louis must).  M&M, chocolate chocolate chip, strawberry, and chocolate chip.   They sure know the way to my heart.
And yes, you better believed I sampled some of each last night.  Not pictured was a bag of M&Ms and gooey butter cake (also, a St. Louis thing, I believe?)  Major thanks to Barbie and Chris for filling our fridge, freezer, and bellies, and for being such wonderful friends.
What are some of your good eats as of late?