Actually sitting down to eat meals has been a bit difficult this last month or so.  Not that I mind; I'd much rather be snuggling my little William, but a girl's gotta eat!  I welcome any meal that comes easy to prepare.  I was recently sent FlapJacked Protein Pancakes to review and they make healthy breakfasts super easy.  I usually don't buy pancake mixes because there is absolutely no nutritional value to them.  FlapJacked is different.  High protein, high fiber, all whole grain ingredients, no artificial anything.  This is a pancake mix I can get down with!
Plus, FlapJacked comes in three different flavors: Banana Hazelnut, Buttermilk, and Cinnamon Apple.  All flavors are mild and the pancakes are SO easy to make.  You literally just add water and throw them on the griddle.  And they're incredibly light which is amazing because they keep me full without weighing me down – very important when I don't know exactly when my next meal will come.  In one serving (half cup of the mix which is sufficient for breakfast), there are 200 calories, 15-17 grams protein, 21 net carbs, and 4-7 grams fiber.  That's darn good for a pancake mix!
From now until May 31, 2014, use discount code ITZLINZ to receive 20% off your entire order at FlapJacked.com.  Follow FlapJacked on Facebook, Twitter, Instagram, and Pinterest for other great deals, delicious recipes, and droolworthy pictures.
For lunch yesterday I threw together an awesome salad while William was napping.  I'd like to call it the ultimate fruit, nut, and seed salad.  Check out the pretty colors:
The base was a mix of spinach, kale, and chard and I added clementine, apple, strawberry, avocado, sunflower seeds, walnuts, hemp seeds, pumpkin seeds, goat cheese, and drizzled olive oil and balsamic on top.  Delicious and perfect timing as William woke up the second I finished my last bite!
Linking up with Jenn at Peas and Crayons for What I Ate Wednesday!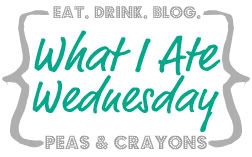 Last night I went over to my sister's house to watch her two kids for an hour.  I'm not going to lie – I was pretty impressed with how I handled my niece, nephew, and baby William on my own for a short time.  Kudos to any and all parents of multiple kids out there!  I have no idea how my mom did it with four of us!  My nephew Jacob watched while I changed William's diaper and asked where his "electrical cord" went.  Haha.
We had pizza for dinner, but between watching three kids, making sure they ate, and feeding myself, I did not snap a picture.  Pretty sure y'all know what pizza looks like anyway.  When Stephanie got home, she went straight to posing William.
Cutest little guy ever.
Two nights ago Jonny came home with Lion's Choice for dessert.  He had an orange freeze and got me a concrete with strawberry and hard chocolate.  (Awesome combo!)  Jonny asked if I was taking a picture of my ice cream or the baby.  Both, obviously!
I can already tell William is going to be an ice cream lover like his momma and daddy!
What's your go-to simple breakfast?  Have you ever tried FlapJacked?