Did anyone do or receive any noteworthy April Fool's Day pranks?  I didn't, but my older brother Jason sure did!  He filled up my parents' sink with four pounds of corn flakes and left a note that read, "Itz important to start your day with a good breakfast!"  He also proceeded to wrap 100+ rubber bands around my mom's computer mouse.  Jason got his co-workers, too! He scraped the cream out of Oreos and replaced it with toothpaste, and emptied someone's hand sanitizer with warming lube! But the best prank of all was played on my mom (my poor mother!), as he attached a sign to the back of her car.
Yes, the sign really did read, "Honk, wave, and yell 'Hi Susan!' It's April Fool's Day and she doesn't know." LOL! But the real kicker is that my dad knew about these pranks my brother was going to pull, so he sprinkled red pepper flakes in Jason's travel coffee mug in the morning that he took to work. Oh my family is just the funniest!
Alright on to food!  I tried a couple different food concoctions lately that I thought I'd be sharing the recipes with you today, but… they weren't food fails, but they definitely are not quite a recipe yet.  First up, breakfast – some type of banana bread:
It tasted good, but it didn't stay together very well. It included bananas, peanut flour, chia seed, flax seed, cinnamon, eggs, baking powder, baking soda, vanilla, and applesauce, but it was too loose. However, I spread a big glob of NuttZo on top which trumped the not quite a recipe yet status.
Linking up with Peas and Crayons' What I Ate Wednesday!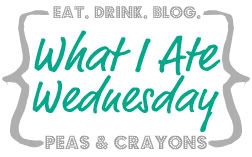 Lunch was another not quite a recipe yet.  I tried to make a meatloaf, but wanted to include tons of vegetables, as well.  Like the banana bread, it didn't hold together too well despite itz looks in the picture below.
I used lean ground beef, oatmeal, mixed vegetables, onion, eggs, and spices.  I drizzled ketchup on top halfway through baking.  Jonny and I both agreed it tasted great! It was just crumbly. What do I have to do to get it to stick together better? Use additional eggs?
Dinner is something I take no credit for because last night I met my good friend Heather at Il Bel Lago. They have a fabulous happy hour of just four dollar appetizers!  It was bar food and not the healthiest, but it sure tasted good!
And of course the more important part was spending time with my friend catching up.  But the pizza, toasted ravioli, and meatballs were pretty darn tasty and ya can't beat that price!
Any good April Fool's jokes or pranks you experienced? Do you have a good meat and vegetable casserole/meatloaf recipe you can share with me?