Food, food, food, food, food! Itz on my mind a lot lately and I feel like I'm a bottomless pit plus my Baby Itz!  Today, I'll share some of my eats.
Yesterday I treated myself to a Starbucks refresh tea!
I added some honey in there because I love drinking my tea sweet. And I love honey.  And, yes, I totally took a selfie with my tea.  Then promptly Instagrammed it.  Obviously.
We were on dog duty at my in-laws' over the weekend while they were soaking up the sun in Florida. They always stock their house full of good food knowing that they'll most likely come home to an empty fridge and pantry because of the amount Jonny and I both eat. (In fairness, I did bake them a fresh loaf of banana bread to say "sorry" and "thanks!")  Anyway, they had bagel thins and a bagel and cream cheese totally appealed to me for breakfast one morning.  However, there was no cream cheese in the house and how could I have a bagel with no cream cheese?  So I got creative.
It looks like cream cheese. It tastes like cream cheese.  It doesn't really taste like cream cheese.  I put a shmear of plain Chobani greek yogurt on the bagel and then drizzled honey.  Just plain greek yogurt tastes like sour cream (which I substitute all the time!), but adding a little honey sweetens it up a bit.  I topped it with strawberries and it was utterly delicious!  The following day I toasted another bagel thin, shmeared plain Chobani and honey, and added a couple of eggs cooked in coconut oil for a bagel-wich.  I think plain greek yogurt and honey is my new favorite cream cheese substitute! Itz way healthier, that's for sure, plus you've got a little protein punch in there, too!
Linking up to Peas & Crayons What I Ate Wednesday.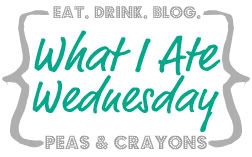 Lunch consisted of a concoction I threw together over the weekend.
It was a hodge-podge of ingredients I had on hand.  I started by sauteing cherry tomatoes and onions just like my grandma does for many sauces and her own creations.  Then, I added black beans, cannellini beans, brown rice, kale, and garlic. That's it!  When it was all set and done I sprinkled a bit of Parmesan cheese throughout it.  I made a big ol' batch that I've taken for lunch these past couple days and dinner last night. The rice and beans combo makes a complete protein (including all essential amino acids), so itz best to pair the two together.
We had dinner at my sister Stephanie's the other night. She was asking what she should make, so I sent her to my Pinterest page as there are a couple of recipes I'd been wanting to try.  She chose the Slow Cooker Honey Sesame Chicken.
It was faaaaantastic!  The recipe called for 1/4 teaspoon of red pepper flakes, but she added two tablespoons instead.  My family likes it hot hot hot!  She steamed some broccoli and served it all over brown rice.  Winner winner chicken dinner!  I'll definitely be making this. Thanks for testing it out and thanks for the tasty dinner, Steph!
Have you made any Pinterest recipes lately? What would you sub for cream cheese?  I imagine something with cottage cheese may work, too.