Wow! Fabulous discussion on yesterday's Placenta Encapsulation post!  I promise not to mention placenta any more in today's food-themed post. 🙂
Since I'm on spring break, I've obviously have had a lot more time on my hands. That means trying new recipes and spending longer in the kitchen which I love.  I felt like lately I hadn't done a whole lot of baking or cooking, and I'm definitely making up for it this week.
Breakfast: Coconut Cookie Dough Oatmeal
I followed Chocolate Covered Katie's Coconut Cookie Dough Oatmeal recipe and it was a winner! I was actually so eager to try it that I totally burnt the heck outta my tongue and mouth on the first bite. I don't usually bake my oatmeal, but like Katie promised, each bite was warm and gooey.
Lunch: Deconstructed Refried Bean Burrito Salad
I followed Kitchen Treaty's recipe for Easy Refried Bean and Cheese Burritos and had plenty of the mixture leftover, so I used it to make a salad the following two days.  I started with a bed of shredded iceberg and spinach, added the mixture, and topped it with cheddar cheese and plain Chobani Greek yogurt.  Awesome.
Dinner: Easy Refried Bean and Cheese Burritos
That is actually Kitchen Treaty's photo because I couldn't get my burritos as pretty as that. I don't think I wrapped them tight enough.  I also pinned this recipe to make it again because it was such a hit between Jonny and me.  Her recipe called for refried beans (obviously) and she linked to one of her previous recipes on Easy Vegetarian Crock Pot Refried Beans (without the lard!).  I made these to use in the recipe and loved how easy it is. They are much more economical than purchasing refried beans, not to mention much healthier since there's no lard or added junk they put in. I probably won't ever buy canned refried beans ever again.
Today's What I Ate Wednesday is hosted, as always, by Jenn at Peas and Crayons.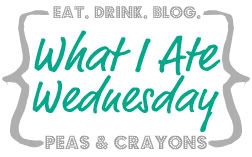 Dessert: 
Healthy Whole Wheat Hamantashen
Purim is a Jewish holiday in which itz customary to make hamantashen. Hamantashen are symbolic as they're triangular-shaped to represent Hamen's three-cornered hat. Hamantashan are usually filled with fruit, cheese, or poppy seed. This was the first time I made them and I followed No Way That's Healthy! Healthy Whole Wheat Hamantashen recipe which was fantastic and so easy. I've made several batches including fillings of raspberry jam, poppy seed, and chocolate peanut butter.  I actually went to my grandma's house, so she could taste them and when I got there she told me she had something she wanted me to taste, as well. It turns out, we both had made hamantashen!  (Her's were much prettier – I posted a pic comparing the two on Instagram.) Both tasted good!
Snack: Cherry Coconut Granola
Consider yourself warned: this stuff is addicting! We've been eating it by the spoonfuls by itself, with oatmeal, mixed in yogurt, and on top of smoothies.  This first batch didn't last long at all. I absolutely love homemade granola and here is another prime example.
Cherry Coconut Granola Recipe
Ingredients:
1/2 cup coconut oil, melted
2 tablespoons honey
Several drops of NuNaturals Cherry NuStevia
3 cups old-fashioned oats
1 cup dried cherries
1/2 cup shredded coconut
Directions:
Mix coconut oil, honey, and NuNaturals in a bowl.
Slowly add oats.
Stir in dried cherries and shredded coconut.
Bake at 350 for 20-25 minutes, tossing halfway through, ensuring itz not burning.
Do you make your own granola? What's your favorite recipe? Leave a link!