Itz time for another edition of What I Ate Wednesday!  For those of you new around here, What I Ate Wednesday (WIAW) is hosted by the lovely Jenn at Peas and Crayons. Over one hundred bloggers participate in sharing their eats from a day. Itz a great place to get meal inspiration, recipe ideas, and droolworthy photos. Check 'em out!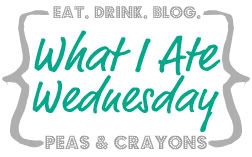 I've really been on a smoothie kick lately.  Especially smoothies with peanut butter.  You just can't go wrong with peanut butter.  Ever.
Itz a recycled photo, but mighty tasty all the same. My PB&J smoothie is amazing.
Lunch is what we would call "there's no food in the fridge, grab what ya can."  This particular lunch included cottage cheese (protein!) with cinnamon, sugar snap peas, and an orange.
Random, for sure, but filling and nutrient-loaded.
Today is Wellness Wednesday at school and itz hosted by DETOUR.  Itz especially perfect because on Mondays and Wednesdays a large group of staff members do a quick fifteen minute workout in the morning, so today we get to fuel our bodies with Detour protein bars.  Detour graciously sent us two different kinds of their protein bars.
Lower Sugar Neapolitan Whey Protein Bars
A triple play of delicious ice cream inspired flavors – a rich milk chocolate soft set layer sandwiched between creamy vanilla and sweet strawberry nougat – melt together in a one-of-a-kind taste experience.
Rich in branch chain amino acids
Recover and rebuild powerful muscle
Complete source of protein
SMART bars start with organic whole oats which are certified gluten-free and added wholesome whey, the right protein to replenish your body. The bars are sweetened naturally and ensured each is a good source of fiber. Now that's SMART.
Gluten free
10g whey protein
4g of sugar per 38g serving
Good source of fiber
Sweetened with Stevia
Made with organic oats
Big thanks to Detour for our healthy, delicious, protein-filled snacks today!
Last night Jonny and I had the opportunity to eat at Souplantation & Sweet Tomatoes in exchange for this blog review.  All thoughts and opinions are my own.  I've eaten there several times, but this was Jonny's first. In case you don't know, itz a buffet. Buffets sometimes get a bad rep, but Sweet Tomatoes really can be on the healthier side! First of all, itz a huge salad bar which I find amazing. I love having access to tons of fresh veggies (especially when I'm not the one who has to wash and slice them!).  I put together a nice colorful salad:
I started with a bed of spinach and romaine, and added carrots, red onion, broccoli, cherry tomatoes, peas, corn, cucumbers, and chickpeas with a light drizzle of ranch. Ehh so ranch is clearly not the healthiest, but it I didn't overdo it and frankly I like it.  If creating a salad is not your thing, they also have many options of already prepared salads and cold pastas.  In addition, they've got a great selection of numerous soups.  I tasted the split pea soup because I've never had it before and their loaded baked potato soup (because you know how I feel about potatoes!).  Both winners.  They also had lighter, healthier options including vegetable and bean and barley.  Their vegetable was actually vegan, as well, so there's really something for everyone there!
Souplantation & Sweet Tomatoes also has several freshly-made bread options and pastas.  Both of which I had bites of… Hey, had to try it all!  And, like most other buffets, they had a lovely dessert station with soft serve ice cream.  You know I was all over that and put together quite the bowl!
Soft serve vanilla with caramel, hot fudge, sprinkles, and the warmest, softest, gooiest chocolate chip cookies.  Oh baby!  I blame Baby Itz. 😉
Souplantation & Sweet Tomatoes now offers gluten-free goodies!  Between March 20-23, they will be serving gluten-free coconut muffins.  I'll definitely be going back to check them out because coconut muffins just sound awesome.
Have you ever eaten at Souplantation & Sweet Tomatoes?