Welp, St. Louis got hit with another snowstorm and schools have another snow day.  Totally not as fun when we've had as many as we've had.  I know, I know, cry me a river, the whole country has been getting hit all winter.  Is it summer spring yet?!?!  So over this nonsense.  Let's warm things up with some food and talk about my eats as of late.
Breakfast
Itz a hearty slice of homemade banana bread (I followed Annette's whole wheat high protein flax banana bread recipe and subbed the protein powder for additional flax and chia seeds) and topped it with a real thick shmear of PB Crave's cookie nookie peanut butter.  It was a delicious breakfast and totally hit the spot.
I actually intended on making a smoothie before I left for school because I didn't think the banana bread and pb would keep me full for very long, but it actually did.  I think itz because I skipped my morning workout yesterday.  No worries, plenty of snacks were consumed at school before lunchtime rolled around. 🙂
All this food talk is being linked up to Peas & Crayons' What I Ate Wednesday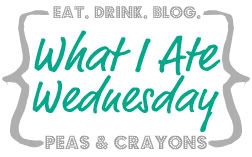 Lunch
Over the weekend I had made Southwestern Salsa Chicken Casserole and it served not only as a tasty Friday night dinner, but many lunches this week.  (I doubled the recipe so it would last longer – great decision.)  I've been eating it over a bed of fresh spinach for some extra green power.
Dinner
I met several local St. Louis bloggers at Granite City Food and Brewery on Monday night for dinner.  I ordered the Grilled Asian Chicken Salad as itz a favorite of mine and Jonny's.  Usually I order the dressing on the side with salads, but this one comes with two: a fresh sesame lime dressing and a Szechuan peanut sauce.  I've ordered them on the side before and itz just not the same.  Too difficult to dip into two sauces, haha.  Plus, I didn't find that this was too saucy with both the dressings. Plus, it looks pretty!
So one time… five pregnant chicks walked into a restaurant…. lol doesn't that sound like it should be a joke or something?  But seriously, out of the seven of us ladies, five are preggo!  Needless to say, the majority of the conversation revolved around all things pregnancy, baby, and kid related!
From left to right: Liz at But… Will There Be Cake?, Sara at Running from the Law, Jessica at I Want Adventure, Alyssa at My Husband's Watching TV While I'm Watching the Baby, Dacy at Mindful Closet, me, and Liz at Ellie & Addie.
We always have such a great time together and spend at least a couple of hours chatting the evening away.  Itz nice to know other pregnant ladies and discussing all related topics (and trust me, we talked about everything!).  Such a fun night and already planning our next get together before we pop!
I was supposed to have an ice cream date with Annette last night, but the stupid weather ruined that.  Here's to hoping we're able to go tonight!
Well, I needed to have something sweet last night, so I went with hot chocolate.
Hot chocolate made with So Delicious vanilla coconut milk and pleeeenty of whipped cream is so delicious. (<– haha, see what I did right there?)  And because of the frigid temps and several inches of snow, last night was spent in my pajamas snuggled under blankets.  Though let's be real… that's how most of my nights look anyways!
What are YOU eating and drinking as of late?