You guys.  We had a snow day here in St. Louis yesterday again.  Not cool.  I'm so over the snow.  Yes, usually I'm over the moon happy about snow days, but this was our sixth snow day (not consecutive) for the school year.  That means we have to make them up.  If it were just at the end of the school year I wouldn't mind (this year anyway) since I'll be on maternity leave with Baby Itz.  However, itz not.  We're saying good-bye to President's Day and/or possibly a professional development day.  Come on, warm weather, where ya at?
Since I was home all day yesterday for the fourth day in a row (thanks to the weekend, MLK day, and aforementioned snow day), I wanted to focus on eating balanced meals.  I knew I'd have the time to prepare them, so I figured there weren't many excuses.  Usually when I'm home all day, I'm a huge grazer and rarely put together actual meals.  However, I did a better (not perfect) job yesterday.
Breakfast:
One whole egg with two egg whites cooked in coconut oil, topped with plain Greek yogurt, nutritional yeast, and red pepper flakes.  Steamed spinach on the side.  I LOVE this combination and could probably eat it everyday.
Linking up with Peas & Crayons' What I Ate Wednesday.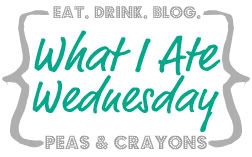 Mind you, I didn't take a picture of
everything
I ate yesterday.  Not even close.  I still did plenty of grazing, but let's blame that on my pregnancy, mmmk? 😉
Lunch:
I actually made this salad the past two days and felt really good about all the veggies it included!  The base was spinach and kale, and the extras were beets, cucumbers, grape tomatoes, sunflower seeds, cottage cheese, a sprinkle of Parmesan cheese, and a drizzle of balsamic.  I love love love everything about it.
Note: this is not the only thing I ate for lunch; however, itz the only thing I plated around lunchtime.  This salad alone would not normally satiate my hunger for very long because of the lack of protein (small amount of cottage cheese).  Be assured, there were plenty of snacks eaten in addition.  Just wanted to throw that out there…
Snack:
aka BEST SNACK EVER!  Now this is a balanced snack, eh?  Cashews (a very underrated nut, in my opinion), an apple, and a couple squares of Theo's dark chocolate.  Clearly I'm joking about it being balanced, but it is kind of balanced.  Itz always best to pair fruit with nuts, so you get the healthy balance of carbs, fat, and protein for longer staying power.  And the chocolate?  Well, that's just a bonus!  And itz dark… so it must be healthy!
Dinner:
I write all the time how Jonny and I eat with his parents and my parents on an almost weekly basis.  Both of our parents almost always send us with leftovers which is very much appreciated.  This week, we ate at Jonny's parents' on Sunday, and my parents' last night.  The dinners are also usually pretty balanced.  The dinner I have pictured is a bit heavier and more carb heavy than usual, but ehhh it sure was tasty!  It was a burger, scalloped potatoes, Brussels sprouts with bacon sauteed in olive oil, and fettuccine.  Heavy, but darn delicious once in awhile!  Just being real here!
Dessert / Another Snack:
Freshly cut pineapple!  Pineapple is Jonny's most favorite fruit, so when I spotted it at the store for just a dollar, I was quick to drop one in my cart.  Pineapples can be a bit of a pain to cut, but using my Kyocera ceramic knife makes it way easier.  That bad boy cuts through anything!
What is your favorite balanced meal or snack?