Another cranberry recipe?  Yes, yes.  Even though I just posted my chocolate chip cranberry oatmeal recipe last week, I had to give you this sandwich because itz downright awesome – simple as that.  Once again, I'm using Lindsay at The Lean Green Bean's homemade fresh cranberry sauce recipe.  I was going to title this "cranberry egg breakfast sandwich," but Jonny and I have eaten this for breakfast, lunch, and dinner, so the word "breakfast" clearly had to be eliminated.  Make this for any meal; itz satisfying, filling, and delicious.  (And I think itz pretty, too!)
Cranberry Egg Sandwich
Cook two eggs to your liking.  (Dippy eggs are best, but are a no-go if you're pregnant.)
Toast two slices of bread.
Spread fresh cranberry sauce on one piece and cream cheese on the other.
Put your sandwich together.
Dig in!
Aaaaaah-mazing!  I actually made Jonny a sandwich like this yesterday, but we had temporarily run out of cranberry sauce, and he asked, "Where's the cranberry sauce?"  See?  Once you have it, you'll always want it!
And maybe the reason we ran out is because I'm literally using it on everything.  Like my lunch sandwich (ok for some reason sandwiches have been really appealing to me lately).
Not nearly as pretty as the previous sandwich and not nearly as good either.  I toasted bread with Swiss cheese, sliced cucumbers, piled on spinach, and smeared cranberry sauce.  Honestly, I think it would have been better if I would have used cream cheese instead of Swiss cheese, but since I had cream cheese for breakfast I thought I'd try to switch it up.  I really should have just made the cranberry egg sandwich again!
Linking up with Peas & Crayons for What I Ate Wednesday!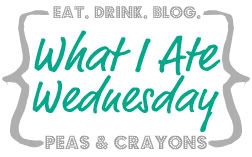 Since I've had snow days the past two days (AND AGAIN TODAY!) and have been at home, I've pretty much snacked my way through these days.  Snacks have included cheese and crackers, almonds, oranges, pineapple, apples, blackberries, walnuts, spinach and artichoke dip with fresh vegetables, yogurt, cottage cheese, and cookies… yes, cookies.. I'm tellin' ya, I'm not going hungry over here!
Ok while this sounds like a ridiculous amount of food, I'm a total "grazer" as my parents like to say.  I have a bite here, a bit there, a couple cookies yeah.  So this is why I didn't sit down to an actual dinner. Well, I did heat up a bowl of leftover Brussel sprouts and baked beans, but there's nothing you want to see about that.  Plus, Jonny worked late so I just grazed my way through the day!
On Monday, I was going stir crazy from being cooped up all day, so I called my friend Diana and twisted her arm asked her to go get ice cream with me.  We laughed as the car temperature read -4 degrees.  Who goes out in negative temperatures to get ice cream?!
I DO!  Clearly.  And I love it.  Coldstone has some of the best flavors: Gooey Butter Cake, Cheesecake, Cake Batter. Mmm! And yes I did get all three flavors.  Cake flavors are the best.  I could literally eat ice cream every.single.day.of.my.life!
All time favorite flavor of ice cream?