As promised, today I am delivering the blueberry oatmeal smoothie from the Runner's World Cookbook. You know I love my smoothies and this one ranks up high in my book!  I like that itz packed with protein even though it uses no protein powder.  Since I haven't been working out, I haven't been using protein powder like I used to, so I welcomed this recipe with open arms an open mouth.  Here you go, friends!
Blueberry Oatmeal Smoothie
1 cup milk (I used 2% dairy)
1/2 cup frozen blueberries
1/2 cup plain Greek yogurt
1/2 cup old-fashioned oats
1 tablespoon flaxseed
Tastes like a blueberry muffin without all the added fat and sugar. Fabulous breakfast!
Today's episode of WIAW is brought to you by Peas and Crayons.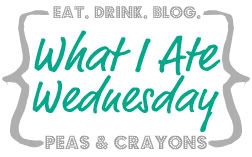 Lunch was looking pretty random for me yesterday as I packed cottage cheese, an apple, sunflower seed butter, and popcorn.  However, I happened to overhear the third grade team talking about ordering lunch, so I jumped right in that conversation and suggested the fourth grade team should order, as well!  Delicious salad from Dave & Tony's for the win!
I love Dave & Tony's because you can build your own salad and add lots of goodness!
Dinner included a tuna melt.  I simply toasted a piece of bread with Wild Planet tuna and topped it with cheese.  It was mighty tasty.  This was the first time I'd tried Wild Planet and Jonny and I both agreed that the tuna was noticeably better than other canned brands.  Itz more expensive (though I received mine free to review), but itz for good reason.  Wild Planet is huge on sustainability and claim their tuna has the highest Omega-3 and low levels of mercury.  They add no water or oil to their tuna.
I had a head of cauliflower that needed to be used, so I decided to make mashed cauliflower.  You know, like the fake, healthier version of mashed potatoes?  Well, I also tried to take a shortcut and use my blender instead of my mini food processor.  This caused me to add way more milk than I normally would have and we wound up with cauliflower soup.
No complaints from me or Jonny!  I literally steamed the head of cauliflower and threw it in the blender with almost two cups of milk, a dash of salt, garlic, and pepper.  After blending, I topped our bowls with some cheese.  Winner winner chicken cauliflower dinner!
Talk to me!  What tasty eats have you been enjoying lately?