You know those mornings when you just have no idea what to eat?  Nothing really sounds good, you don't want to put too much effort into making breakfast, so you decide to roll with oatmeal because itz easy, healthy, and it tastes good.  And itz comforting.  Especially with a banana, peanut butter, cinnamon, raisins, a drizzle of honey.
Or is that just me?  That's like the ultimate bowl of oatmeal for me.  Total comfort oatmeal.  Now on to some other eats for today's edition of What I Ate Wednesday.  Check out Peas & Crayons for a whole blogger party full of drool-worthy pictures and delicious recipes.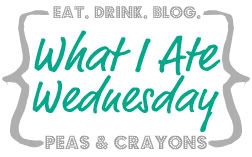 On Sunday, I stopped by my grandma's house as she told me she made a new cauliflower dish she wanted me to try.  It reminded me of a cauliflower crust I've seen some of you make.  She steamed cauliflower and put it in the food processor before topping it with cheese and baking it.  My grandma added some cherry tomatoes, as well.  It was pretty tasty, and she also sent me home with her homemade lasagna.
I never make lasagna, but I definitely don't mind eating it!  It made for a super filling lunch for a few days in a row.
Smoothie King started coming to our school and selling little mini smoothies for seventy-five cents for the kids.  I jumped all over it when I saw it!
Last night I watched my sister's kids for an hour and it happened to be during dinner time.  While the kids ate, I fixed myself a taco with the leftovers in their fridge.  Quick, simple taco included refried beans, spicy turkey meat, and cheese.
And don't worry, this wasn't all I ate.  There were pretzels and cheez-its and other fun kid food that doesn't usually make an appearance around here. 😉
What would YOU put in your comfort oatmeal?