Hey hey hey!  Happy Wednesday to you, friends.  Itz What I Ate Wednesday over at Peas and Crayons, so I'm giving you another fabulous smoothie recipe.  But first let me give you some background on this masterpiece.  Frozen custard is really popular in St. Louis.  If you're from here or if you've ever visited, you've probably gone to or at least heard of Ted Drewes.  They're famous for their frozen custard and itz phenomenal.
Well, there's another place called Silkies in St. Louis.  Not nearly as famous, but I actually like it a lot better.  They have a "light" frozen custard, and while I'm not really sure how custard can be considered "light," itz consistency is softer than the really hard stuff.  Anyway, my favorite combination is vanilla custard with raspberries and hard chocolate mixed in.  So that's the inspiration behind my current smoothie love.
Raspberry and Hard Chocolate Protein Smoothie
~makes 1 large smoothie
Ingredients:
several ice cubes
1/2 – 1 cup raspberries
1 scoop vanilla protein powder
1 tablespoon chia seeds
1 tablespoon raw cacao powder
1 cup vanilla almond milk
Directions:
Blend ice, raspberries, protein powder, and almond milk until smooth consistency.
Add chia seeds and cacao powder.  Pulse.
Pour in glass and garnish with additional chia seeds and fresh raspberries.
Itz way healthier than ice cream or frozen custard (well, duh!), but itz actually a really good substitute!  Not only is it packed with protein, but the chia seeds imitate the texture of hard chocolate and the raw cacao powder gives it the slight chocolatey taste without being too overpowering.  Not to mention, all the nutrients that raw cacao powder and chia seeds deliver!
Now let's get on with the rest of WIAW since breakfast has obviously been smoothies!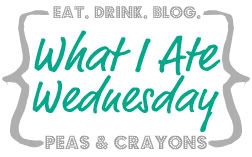 I've seen several bloggers jump on the "salad in a jar" train and I really never did because I thought Tupperware sufficed.  However, we've been out of clean Tupperware and had clean jars available, so I gave it a try for myself.  I do believe most bloggers actually add dressing in the jar (there's a specific technique for this as to not get your greens all soggy), but I chose to add my toppings at school.  I will say, salad in a jar sure is pretty!
You're supposed to put the harder vegetables at the bottom with the lighter ones at the top.  Here's the order I went with: cucumbers, beets, carrots, celery, spinach, mixed field greens, and beans.  I would have put beans more in the middle, but honestly I forgot to add them until the end.  At school, I dumped it out on a big ole' plate and put on the finishing touches to complete the salad.
I squeezed the juice of half a lemon over the whole salad, sliced half an avocado, and added a large scoop of cottage cheese.  It was fantastic!  I feel like I hadn't been getting a lot of fresh vegetables in my daily diet recently, so this totally solves the problem!  Mmm.
Before I tell you about dinner let me give you the back story real quick.  My best friend Diana got married in June and they had the cutest flower girls ever, Taylor and Morgan.  Taylor and I became fast friends (she's six) and we danced the whole night away.  Well, Diana was going to babysit the girls last night and asked me to go along for a little surprise.  I must say, walking into their house made me feel like quite the celebrity.  The girls were adorable, as always, and we had a lot of fun.
Anyway, before their house, I met Diana at her place and she had cooked dinner which she graciously shared with me.  Like I told her, it did not photograph well at all (in fact, itz really ugly), but itz so good and SO easy to make!  Itz a mac and cheese casserole.
I am so sorry for the gross picture.  Diana browned turkey meat and put it in a casserole dish.  Then, she poured red pasta sauce on top.  Next, she added macaroni and cheese with some extra shredded cheese on top and stuck the whole thing in the oven to bake.  Me oh my was it tasty, but cheesy meals usually are!
Since I can't end on such an ugly photo, I'm going to share the best picture from our babysitting stint last night.  Taylor wanted to show us her handstand and you know I was all over that idea!  And believe it or not, it was all her idea!
Impressive for a six-year-old, eh?  I love it! 🙂
What's your favorite casserole?  Share a recipe link if you'd like!