Have you voted for my Tomato Kick Bean Dip recipe yet while entering to win a $250 gift basket from Naked Juice?  There's still time!  Details can be found HERE.
Itz Wednesday, so that means itz time for another edition of What I Ate Wednesday over at Peas and Crayons.  Last week I was super snacky and recently I've done a better job of eating three meals with more sensible snacks in between.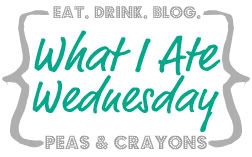 Breakfast:
I received free product coupons at Blend Retreat for
Attune Foods
and yesterday morning I combined two different cereals for my breakfast.  I went with Buckwheat & Hemp and Strawberry Crisp with vanilla almond milk.
The Buckwheat & Hemp provided a bit of protein and fiber for lasting power and the Strawberry Crisp had the perfect amount of sweetness I was looking for.
I snacked on apple slices and almond butter after I was finished teaching.  Last time I was at Trader Joe's I bought almond butter with sea salt.  Usually I buy unsalted, but I figured I'd be fine buying the sea salt kind one time since that's all they had in stock.  Oy.  It was far saltier than I anticipated or preferred.  Next time I'll hold out for unsalted.
Lunch:  Subway sandwich on honey oat bread with turkey, spinach, lettuce, cucumber, tomato, onion, pickles, green peppers, jalapenos, banana peppers, and a bit of honey mustard.  The sandwich was packed, but pretty messy.
Why do Subway sandwiches always look so much prettier on commercials?  Diana and I completed the first Soldier of Steel™ workout at the gym yesterday.  We were sweaty messes by the end, so we added to the sweat-fest by walking to Subway under the blazing sun two miles away.  Itz safe to say we were starving by the time we got there and our sandwiches definitely hit the spot.  Gotta refuel after workouts!
Dinner:  Dinner was twofold.  Mini eggplant pizzas were tasty and easy to make.  All I did was peel three mini eggplants, slice them, drizzle olive oil, and roast them in the oven at 400 for 20 minutes.  Then I added marinara sauce, pizza seasoning, and a bit of Parmesan cheese on top before broiling them on low for about 5 minutes.
The mini eggplant pizzas were tasty, but the second part was the highlight, for sure.
Beet, Walnut, Cucumber, & Honey Goat Cheese Spinach Salad
You see, it all started when my grandma Mama gave me a package of beets.  They were already cooked and thank goodness for that because I haven't the slightest clue on how to peel or cook raw beets.  I knew I wanted to include them in a summertime salad and I'm pretty sure I put together the perfect combination.  Beets, walnuts, cucumbers, and honey goat cheese crumbles served over a bed of fresh spinach.  I sprayed a bit of EVOO on top and then drizzled balsamic vinaigrette.  It was unbelievable.  Seriously unbelievable.
Isn't she a beauty?
Are you a beet + goat cheese fan?  How do you use beets?  What's your favorite cereal combination?