Me oh my I was on the phone with Apple support for an hour and a half last night after visiting the Apple store (which was no help).  Jeff from Apple support was so kind, patient, and helpful while he walked me through a million steps.  My iPhone said it was almost out of space, and I knew that was an error considering I have nothing but pictures on my phone and only 600 at that.  Long story short, we deleted everything off my phone, restored it back to the factory settings, and then brought my pictures back.  Now I just have to put Twitter, Instagram, and Facebook back on.  You know, the really important apps.   😉
Anyway, we leave town tomorrow for Arizona, so I planned on getting a lot done last night, but that obviously didn't happen.  So today's WIAW post will be short and sweet and there's an awesome giveaway comin' at ya tomorrow!  Stay tuned, folks!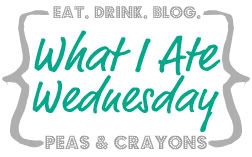 Breakfast: Super thick coconut flour pancake topped with Designer Whey white chocolate protein powder sauce.  (Mix protein with water until a "saucy" consistency is reached.)
Lunch: Since we're leaving town tomorrow, our kitchen is a bit bare.  So bare that I've been taking cereal to work for lunch this week.  I'm not a huge cereal fan because there's just not a ton of nutritional benefits with it, but I do like Special K's protein plus cereal.  It packs 10 grams of protein in one serving (and I eat two servings… at least).
Fresh berries make anything taste better and look prettier, agree?
Attune Foods sponsors Wellness Wednesday today at school.  They graciously provided staff members with Erewhon Raising Bran Cereal and Erewhon Organic Honey Grahams.  Their philosphy is, "If what you eat is good, and pure, and true to its source, all else will follow."  All cereals are organic and made with non-GMO ingredients.
We certainly will enjoy these tasty, healthy snacks – thanks, Attune Foods!
Dinner:  Leftovers from my parents' house.  Leftovers are seriously the best.  Jonny and I both love and eat any and all leftovers.  (Just ask either of our parents.  We never decline leftovers!)  Last night was leftover barbecue chicken (thanks, Dad!), leftover salad (thanks, Mom!), and a few bites of leftover unpictured pasta.  Yes, I am a soggy salad eater.  I do spruce up soggy salads by adding fresh spinach, kale, cabbage, or any kind of green, really.  Last night was shredded cabbage that I needed to use up.
Are you a soggy salad eater?