Heeeey there, folks!  Let's talk healthy foods today.  Itz only appropriate as it is What I Ate Wednesday.  This week my eats have been super clean as Monday marked the first day of the New Year New Rules program that I'm following.
Breakfast: Pancake fail.  Again!  Seriously, I don't know what's up with my pancakes lately.  Well, I do.  I try to make up new recipes and they don't always work out the way I envision them.  Yesterday's fail involved a banana, eggs, and coconut flour.  That coconut flour is so tricky, I tell ya!  Still tasted good though.
On Sunday I made a HUGE batch of black beans and a HUGE batch of quinoa.  I knew I'd be using them as a base for my lunches and dinners this week.
Lunch: black beans, quinoa, broccoli slaw, green peppers, orange peppers, red onion, carrots, celery, and sunflower seeds.  I made my own salad dressing by squeezing the juice of half a lemon, half a lime, and some apple cider vinegar.
Colorful foods pack the most nutrition!
Snack: I had a meeting after school, and I know that I'm usually famished around the four o'clock hour.  In the morning I made oats and stirred in unsweetened, shredded coconut, blueberries, and pecans.  No shame in taking a jar full of oats to a meeting!
In order to make healthy choices, you need to plan ahead.  Bottom line.  Other snacks throughout the day involved an apple, almonds, and raisins.
Dinner: Similar to lunch with a base of black beans and quinoa.  Added tomato, broccoli, avocado, sesame seeds, and cayenne pepper; served on top of a bed of fresh spinach.
Again, the more colors, the better!
One of the foods from my childhood that hold a special place in my heart is bananas foster.  It was such a good surprise whenever my dad made it, and my brothers and sister probably agree that itz always a delicious treat!  However, with the New Year New Rules program brown sugar and butter don't really fit the picture.  So I made the old recipe waaaay healthier (and even easier!).
Dessert:  Healthy Bananas Foster
Literally, two ingredients.  Bananas and coconut oil.  Heat up a tablespoon over medium heat and throw in the banana slices.  Let brown.  Enjoy.  It seriously tastes like bananas foster even though NO sugar or butter were added.  Amazing.
That does it for today's edition of WIAW.  Check out other great recipes and meal plans over at Peas and Crayons.  There are literally hundreds of other bloggers who link up!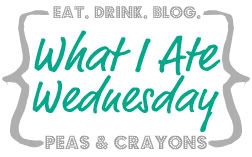 One last thing for today.  You know how much I love mud runs, right?  I've done the Warrior Dash (four times), and the Ruckus Run.  Well, the Pretty Muddy is along the same lines, but itz just for women!  I haven't participated in a Pretty Muddy (yet), but hopefully will soon.  Getting a group of girls to do this race together would be so much fun.
I've got a discount code just for YOU if you'd like to give it a shot.  Use the code GIRLTIME to receive $20 off your registration fee.  This is amazing because Pretty Muddy will not be doing any daily deals (Groupon, Living Social, etc.), so now is your chance to save some dough.  But sign up now because the code is good only through the end of January.
What do your eats look like today?  Bananas foster fan?