My smoothie voted.  What?  Yours didn't?  Weird…
This was a Chocolate Covered Kale Protein Smoothie that I blended after standing in line at the polls for an hour.  I headed to my voting location right after my morning workout at 6:15 am thinking I'd beat the crowd.  Incorrect.  An hour isn't so bad, and I still made it to work on time.  But I did have fun sticking my "I voted!" sticker on different things.  Like my smoothie.  And my shoes.
Those are my Mizuno Wave Creations that I was recently sent to review.  So far they are super comfy with plenty of support without feeling too heavy.  Now that I played with my stickers (gosh, my third graders are rubbing off on me!), let's talk some WIAW for the blog party today hosted by Jenn at Peas and Crayons.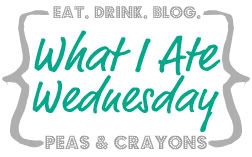 Click the button above to see numerous drool-worthy photos and get ideas for recipes and meals.  WIAW is a great resource and a fabulous tool in the kitchen!  So the smoothie I posted was my breakfast on Tuesday, but Monday was more standard of grapefruit slices, eggs (3 egg whites + 1 whole egg), and a handful of spinach.
The eggs were cooked in coconut oil which I've been totally loving that combo lately.  Lunch the past three days has been that bean, barley, veggie, and quinoa soup that I prepared on Sunday during my procrastination frenzy.
Meal prep and batch cooking make life so much easier!  Dinner last night was homemade pizza.  I used a P28 High Protein flat bread for the crust.  The flat bread has 28 grams of protein in it and is made from 100% whole wheat using oat, flax seed, sunflower seed, and millet.  I sautéed some onions and peppers for the toppings and sprinkled a bit of cheese on top.
It tasted absolutely delicious and really filled us up (despite the lack of meat, much to Jonny's dismay).  However, I must not have cooked it correctly or put on way too many toppings because the crust got very soft.  I tried putting it in the oven at 375 and then broiling it the last few minutes. Luckily, I have three more crusts to try and perfect!
Our sweet tooth was kickin' later at night, and Jonny volunteered to fetch us some apple slices and peanut butter.  (Ok, he may not have used the term "fetch.")  I told him I'd come up with something better (naturally), so I decided to spruce up the ole' apples and peanut butter combo.
I sliced two apples and threw them in a pan with coconut oil.  Cinnamon was sprinkled on top while the apples softened.  A few dashes of maple syrup was thrown in the mix.  Once I put the contents in a bowl, I drizzled peanut butter on top.  Deliciousness!  There's just something about warm apples that are perfect for these colder temps.  And a hint of added sweetness with the maple syrup parlayed with cinnamon and peanut butter?  I think itz genius quite frankly.
How could I have made the pizza crust a bit crustier? Tips, please!  Did you vote?  How about your breakfast?  Or your shoes?  😉