Today is Yom Kippur – a Day of Atonement.  It comes 10 days after Rosh Hashanah, and is celebrated by partaking in a fast, attending synagogue, and repenting.  Itz the holiest day in the Jewish religion.  While everyone celebrates differently, I plan on fasting throughout the day, yet drinking water to stay hydrated.
With all the running I'm doing in preparation for the half-marathon, I don't want to totally throw my body off.  I'll continue my streak of running by doing a very easy one-mile jog.  Obviously, it is not recommended to exercise at all during a fast, but I believe a very slow-paced jog will be fine for my body, especially since I'll be drinking water.  Itz one day a year, and this is how I'll choose to celebrate.
Jonny and I will attend services with my family in the morning, lay low throughout the day, and break the fast at my grandparents' home in the early evening.  For our wedding, I bought Jonny a University of Miami (his alma mater and obsession love) yarmulke (or a "kippah") that he gets to sport twice a year when we attend temple during the high holidays.
Jonny's always gotta be showing his "U" love – even at temple!  Today also happens to be WIAW with Jenn at Peas and Crayons.  While I can't promise to be reading all the wonderful blogs that feature delicious looking food today during my fast, I promise I'll catch up later!  Fasting is a challenge and gawking at drool-worthy pictures certainly don't make it any easier (and itz not supposed to be easy! Read my sidenote at the bottom of this post).  For those of you notcelebrating Yom Kippur, I'll share my eats from the past couple of days for today's What I Ate Wednesday.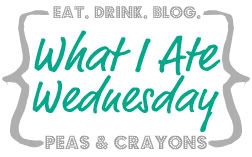 I've still been working hard to eat a lot of greens, but I am out of spinach and just have kale in my fridge.  A lot of you told me that you add kale to your smoothies, so I decided to give it a go in my breakfast protein smoothie.
Chocolate Covered Kale Protein Smoothie
~makes one serving
6 ice cubes
1 scoop chocolate protein powder
1 teaspoon cacao powder (to really amp up the chocolate flavor!)
1 teaspoon maca powder (optional)
1 cup unsweetened vanilla almond milk
a few drops of NuNaturals vanilla
handful of fresh kale
The verdict?  Well, I like kale, so I thought it was delicious!  If you could turn a green vegetable into a candy coated delight, this is it.  It tasted like chocolate covered kale which sounds completely and utterly odd, but it was actually quite delectable.  Unlike spinach, the kale taste was very evident in this smoothie.  Strangely delicious, packed with protein and nutrients, and filling.
Lunch this week has been a rainbow salad with chicken that I made during my food prep day on Sunday.  I keep the salad cold and warm up the chicken.
Dinner came together quite nicely, too.  We had some chicken that was leftover from our Sunday night dinner with the in-laws, and I prepared asparagus and a spicy quinoa pilaf that I'd picked up from the farmer's market.  The asparagus was frozen from Trader Joe's – a newbie to me that I love!  All you do is cook it in the microwave (or the stove), and I added a drop of sea salt and crushed red pepper flakes.
Tomato slices fresh from our garden add a nice splash of color, too!  There you have it, my eats from the past couple of days shown to you on a day where I am fasting and repenting.
Yom Kippur sidenote: I've been e-mailing with Jonathan from ENERGYbits (more to come at a later date).  After learning that Jonathan is a fellow Jew, I wished him an "easy fast" which is common to hear among Jewish people on Yom Kippur.  He wrote back, "I've been thinking about the fact that we wish people an easy fast… that defeats the purpose of the fast! It's good to take a step back and realize that life isn't always easy! With that said.. Have a meaningful fast!" 
That makes so much sense, right? Itz like a lightbulb went off for me as this totally clicked and jived with my thoughts.  Jonathan's right: Life isn't always easy, but itz what we make of it by taking the time to reflect (and on days like today, repent) on how we can improve and better ourselves.  Thanks for the insight and your honesty, Jonathan.  While the fast will be challenging, it will be an opportunity to take a step back from the business of everyday life.
So to my Jewish friends, family, and readers: may you have a meaningful fast!
To everyone else: Happy Wednesday! 🙂 
Do you add kale to smoothies?  Can you taste it?  Does a chocolate covered kale protein smoothie appeal to you?