Because of the extra large dinners I'd eaten and enjoyed the past couple of nights, I vowed to clean up my eats a bit for the remainder of the week.  What does this mean?  It does NOT mean any crazy diet, calorie restriction, or extra time at the gym.  (I ran five miles this morning, but that's due to my half marathon training.)  What it does mean is smaller portions, extra veggies, and lots of water.  My goal for yesterday was to include greens in every meal.  Mission accomplished.
Breakfast: Steamed kale sprinkled with nutritional yeast and eggwhites topped with sriracha for some heat and extra flava'!
Lunch: Spinach, chicken breast, raw pepper slices, and carrots dipped in a homemade avocado – greek yogurt sauce.
Dinner: Leftovers of brisket, carrots, mashed potatoes, sweet koogle, green beans, cauliflower, and broccoli.
See?  I told you I'd still enjoy leftovers; I just placed a bigger emphasis on my greens.
Note: This is not everything I consume in a day.  It is merely my three square meals.  Rest assured, there are many *healthy* snacks eaten throughout the day.
I hope you liked today's WIAW!  For my newbie readers, WIAW = What I Ate Wednesday.  Itz a day to gawk at delicious food and beautiful pictures and maybe even drool a bit.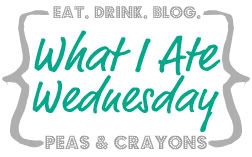 Click on over to Jenn at Peas and Crayons to check out the many other awesome blog posts celebrating WIAW.  I know I will!
Do you eat greens at every meal?  What are your favorite greens?