My good mood has continued, and I totally and completely rocked my morning run yesterday.  (My Facebook fans already know this!)  I attribute my awesome run to the fact I had been so focused on staying positive and thinking happy thoughts since feeling crummy last weekend.  I'm not going to lie: there are tons of fall half-marathons all over the country that I keep reading about.  Itz kind of giving me an itch.  Last October I ran two half-marathons within three weeks of another and I was totally done with running for awhile.
Six months later I decided it was time to run again.  I didn't do anything serious, but started here and there, completed RWRunStreak and have been going strong (one or more miles a day!) ever since.  Anyway, I got the itch bad yesterday, and decided I would go on a long[er] run than I had been doing.  I woke up, and threw on a lovely all blue outfit – I felt like one of my third graders who wear the same color from head to toe.
At least it was a pretty blue?
 It was dark when I started running (so people couldn't see my blue anyway!), and I literally could not read my Garmin until I heard the first beep indicating I'd reached a mile.  I knew I wanted to run at least four miles, and since I do an out and back by my house, I had to decide after two miles if I would go on or turn around.  Well, I was feeling really strong, so I went for it.  My goal is always ten minute miles or less, so when I approached five miles and saw my time, I was very happy!
9:18 average pace.  After only running 1 – 3 miles a day for the past three months, and not running longer than that for an even greater amount of time, I'd be lying if I didn't say I was stoked!  This fed my itch to run even more, and I can't wait to continue.  I do need to remind myself to take it easy and not go too far too fast, because I don't want to experience the knee pain I had last October.  After my run, I was starving, so now let's talk food for Jenn's WIAW.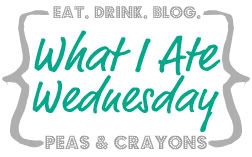 It had been awhile since I'd made pancakes, and I really wanted to use the peanut flour I'd recently bought.  I threw some ingredients together, and ended up creating the prettiest pancake I've ever made!  Check out this beauty:
Here is a rough estimate of what I used: 1/3 cup peanut flour, 1/3 cup eggwhites, 1 tsp ground flaxseed, 1/2 scoop vanilla Sunwarrior protein powder, 1/2 tsp baking powder, and a splash of vanilla almond milk.  I ended up topping my pancake with a little cashew butter and pure maple syrup, but it covered up the prettiness of the pancake, so itz going unpictured.
On Monday and Tuesday my lunch was a rainbow salad.  Last night Jonny and his dad went to a Phish concert and picked up Crazy Bowls & Wraps.  Because my father-in-law is so wonderful, he picked me up a dish, too!  I ended up going to a friend's house last night for dinner (pizza!), so I took this powerbowl for lunch today.
Lettuce, grilled chicken, beans, broccoli, cheese, and corn salsa.  So tasty!  Dinner is currently in the crockpot.  Good ol' trusty crockpot to the rescue during these busy days.  I threw in a bag of (uncooked) black beans, chicken, unsalted chicken broth, frozen veggies, and diced tomatoes.  Dinner shall be served when I walk through the door.
What's your go-to crockpot dish?  Have any stellar runs/workouts lately?