Here's the post where you become even more jealous of the fabulous time I had in Boston with all my new friends. Itz WIAW over at Peas & Crayons!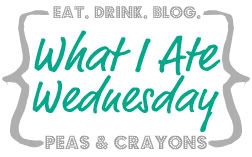 Let's get to it!  During the day on Friday, we walked to Whole Foods for lunch.  Would you believe that some of the girls had never been to a Whole Foods before?  How deprived are they?  I filled my box with all the goodies from the hot food bar.  Everything I chose was tasty and I'm glad I did not stick to just one thing.
And there was more hiding under the top layer which you see.  I love sampling all the wonderful options!  Friday evening we went to Todd English's Figs – a casual bistro that specializes in eclectic thin-crust pizzas baked in a wood-fired oven.  After seeing the size of one pizza, Chelsea and I decided to split the Fig and Prosciutto pizza.
Best.Decision.Ever.  The prosciutto was not my favorite, but I'm not a huge ham fan.  The fig and balsamic jam?  AMAZING!  The pizza also had a rosemary crust and gorgonzola cheese.  I have got to start cooking with figs more.  Check out the size of the goodness:
Chelsea and I did good work on the pizza.  🙂  Wild Harvest provided breakfast on Saturday morning.  There were five recipes that were the finalists in a recipe contest, and I must say, they were all excellent!  Obviously, I tried a bit of it all.
And then I went back for seconds.  Lunch was made by the hotel and it was very satisfying with some mixed greens and a tomato and avocado salad (anything with avocado is a winner in my book), chicken, and some lentil chili.
Again… I had some of it all!  The girls and I (and some of the good looking Reebok CrossFit instructors – more on that later) went to dinner at Cafe Sushi.  I ordered the Signature Sampler which included the chef's selection of five signature creations.
Tasty?  Yes.  Filling?  No.  5 bites just doesn't do it for me.  Luckily, we went to J.P. Licks for a sweet treat afterwards.  I opted for frozen yogurt – cheesecake (duh) and a dollop of black and white malt.
Definitely a good choice!  Breakfast on Sunday was at the hotel, and a mighty fine one if I do say so myself.  There was homemade granola which was out of this world.
Big chunks of granola are my favorite, and the goat cheese and egg tarte wasn't too shabby either.  Before leaving on Sunday, a few of us girls who had later flights went to Tory Row per Meg and Chelsea's recommendation.
Those girls knew what they were talking about because the kale salad was thebombdotcom.  More restaurants have got to start serving kale salads!  This one included raw kale, roasted kale, ground almonds, red onions, pecorino shavings, lemon dressing, and I ordered grilled chicken, too.  It was awesome, and even more awesome was my lovely company.
Katie, Lisa, and Sara to be exact.  Funny story – Katie is from Kansas City, and my high school and her high school field hockey team used to travel to each other's hometown and stay at the opponents' homes for field hockey tournaments each year!  We were a few years apart, so we missed each other, but still funny and another proof of how small this world really is!
I definitely enjoyed some tasty eats in Boston – itz a shame there wasn't more time for more good food, but I'll take what I can get.  Now I need to figure out how to recreate that fig pizza and kale salad!  Mmm!
What's the best pizza topping you've ever had?  Best salad?