Today is my first official day back at school.  I've spent some time in my classroom preparing for this upcoming year, but today itz official.  The 2012 – 2013 school year is starting!  While I am excited about this new year, my new kiddos, and all the new learning that will occur, I can't help but feel a tad sad that summer is coming to an end.  Well, I won't dwell on it, and instead let's celebrate with a fun WIAW party over at Peas & Crayons.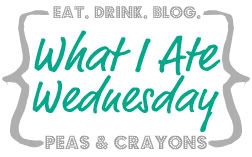 Breakfast:  2 eggwhites + 1 whole egg, topped with fresh tomato chunks from our garden.
Homegrown tomatoes are way better than store bought.  I don't like tomatoes actually in my eggs.  I feel like it makes them watery.  On top – perfectly acceptable.
Lunch:  Leftovers from our birthday bash.
Baked beans, corn on the cob, a drumstick, and a couple of ribs.  We love leftovers over here.  I seriously don't understand people who dislike leftovers!  If it was good the first time, then it will be good the second time!  And the third, and the fourth…
Snack:  Many bites of our leftover, enormous cookie cake!  Look who I caught in action:
Recognize Jonny's sweet shirt?  He's so thoughtful.  Jonny told me he saved me the last bite of cookie cake.
He wasn't kidding when he said bite!  Sweetheart.
Dinner: Last night for Jonny's 30th birthday, we went out to dinner to BrickTop's.  BrickTop's is new to St. Louis, and we've been once before with Jonny's parents.  It's a little pricey, but we received a gift certificate for our birthdays, so we decided it would be an appropriate, fun, and tasty place to go.  We started with the Beef Tenderloin Flatbread with blue cheese and carmelized onions.
It did not disappoint, and we devoured it.  (Surprisingly, Jonny did not burn his mouth!)  For my entre, I ordered the Palm Beach salad.  It was a layered salad with eggs, shrimp, tomatoes, crab meat, and avocado.
In addition to tasting delicious, it was also pretty!  Mmm so good.  Jonny ordered the fish tacos with mahi mahi and deviled eggs on the side (how random, I know, but their deviled eggs really are good!).  When I excused myself to use the restroom, I told the manager we were celebrating Jonny's 30th.
The waiter surprised Jonny with a scoop of vanilla bean ice cream and a birthday card that contained a fairly long handwritten message on the inside thanking us for choosing BrickTop's as the spot to celebrate Jonny's 30th birthday and signed by all of the employees.  It was quite the card from a restaurant, but it certainly made Jonny feel special!  We came home with stuffed bellies, and no leftovers.
Are you a leftovers fan?