Itz the first official WIAW of summer break!  Yippee!  For many more delicious WIAW posts and meal ideas, be sure to head on over to Peas and Crayons and click around.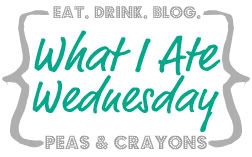 Also, don't forget to enter my giveaway which is perfect for summer – especially for making that dreamsicle smoothie that is oh so delicious.  Now, let's talk breakfast.
3 egg whites on top of steamed kale and smothered in Trader Joe's habanero lime salsa.  I've been on a tea kick lately and it's made all the better by a pretty mug one of my students gave me at the end of the schoolyear.
My blue nails have just been matching everything lately!  I love the quote on the mug: stop. smile. breathe. life is beautiful.  It sure is.  I was drinking some black tea from my foodie penpal and sweetened it with Lemon NuStevia.
Yesterday, I attended a workshop for my school and we had a one hour lunch break.  There was a Whole Foods close by and I was super stoked to visit their hot food bar.  As much as I go to Whole Foods, I've never gotten lunch or dinner from the bar!  So naturally I had to have a little taste of everything.
I chose many items from their Health Starts Here line since it is very healthy with no added gross stuff (oil, etc.), but not everything I chose was from there.  Just some of my box included spinach, cabbage salad, cucumbers, peas, carrots, edamame, corn, mushrooms, peppers teriyaki tofu, pumpkin seeds, sunflower seeds, and some other kind of salad that I don't remember the name of.  It was amazing.  I have a feeling I'll be back.  Soon.
Dinner is from Monday night.  At the pool party we attended there was a nacho bar around 3:30, so we definitely wanted something on the lighter side for dinner.  It was light and came together in a jiffy.
Steamed broccoli, black beans, brown rice, plain greek yogurt, and more of TJ's habanero lime salsa.  Though we did save room for dessert later in the evening.
Strawberry Coconut Smoothie – Oh baby was this good!  Frozen strawberries, unsweetened vanilla almond milk, ice, plain greek yogurt, shredded coconut, Vanilla NuStevia, and flaxseeds.  Seriously amazing.
That sums it up for today.  Make sure you become a fan of Itz Linz on Facebook to stay up to date on some exciting stuff coming up on the blog.  You won't want to miss it.  🙂
Tell me about your good eats as of late!