True story: I wrote my "Joining A Gym" post on Monday night and then went to the gym bright and early per usual on Tuesday morning.  While there, this guy came up to me and goes, "Hey, I think you live in my neighborhood."  After discussing where he lives, we discovered that we do live in the same neighborhood which isn't all that surprising since the gym is about a mile from where we live.
The funny part is that I literally had a similar conversation two weeks ago with a different guy.  He approached me and said, "Looks like your house got some hail damage."  At first I was like "Uhhh what?  Who are you?"  And then he told me he lives nearby and sees me outside with my dog.  So that is PROOF of points #4 and #5!
Speaking of the gym, I used my Bit Timer to do some abs after 30 minutes on the elliptical.  (I needed something light after my tough leg workout.)  I set the timer for 30 second intervals with 10 seconds of rest in between.  The exercises: low plank, side plank, high plank, other side plank, superman, repeat.  A solid 6 minutes of ab work that I am definitely feeling. 
  Now let's talk food.  Specifically, WIAW at Peas & Crayons!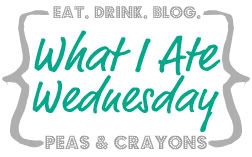 Breakfast was a glorious combination of plain greek yogurt sweetened with NuNaturals vanilla mixed and topped with strawberries, blackberries, blueberries, almonds, and homemade granola leftover from my frozen yogurt bites.  I got a little picture happy because the bowl was so pretty.  Pre and post granola pix:
Doesn't that remind you of summertime?  I love fresh berries, specifically containers of strawberries on sale for $1 at the farmer's market!  On Sunday, I made a bunch of vegetables and beans for this week's lunches.
I roasted broccoli, eggplant, squash, and zucchini and then cooked peppers, onions, and corn on the stove.  I mixed it all together with the great northern beans and tossed it with some orange ginger sauce.  It was fantastic!
My friend, Diana, made her grandmother's vegetable chili the other day, and she was sweet enough to bring some by because she knew Jonny and I would love it.
 She was right and even promised the recipe!  Talk about a good friend!  Jonny and I ate this as an appetizer to our dinner last night.  His parents had given us some lox leftover from the Mother's Day brunch, and we wanted to use it up.
Egg and lox scramble served next to steamed spinach – delicious dinner!  That sums up today's edition of WIAW.  I hope you have a wonderful Wednesday with some tasty eats!  Today is "Pride Day" at school (aka: Field Day), so I have lots of outdoor fun and games during my Wednesday.  What about you?  What are you up to today?