Another Wednesday brings us another WIAW hosted by the wonderful Jenn at Peas and Crayons.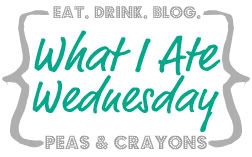 How lucky we are! 🙂  Let's get right to it.  Today you will see quite the variety in my meals as opposed to my usual eats that I had been repeating for the past few weeks.  Breakfast was wholesome and filling.
2 eggwhites plus 1 whole egg in between two pieces of whole grain toast.   I spread strawberry jelly on the toast and then poured sprinkled nutritional yeast on top.  Random, yes.  Delicious, yes.  Banana slices with melted peanut butter and cinnamon on top.
This week is Teacher Appreciate Week, so our awesome PTO hosted a lovely luncheon for us yesterday.   The theme was Italian and there were decorations, tablecloths, and even a pasta noodle attached to the invites.  Very clever!
Salad with creamy Italian dressing, red sauce pasta, and rolled up chicken things.  (Not sure the proper name for them.)  Oh and a few cubes of cheese that are hiding underneath the salad.  To top it off, there was a brownie that got consumed, but is going unpictured.  Snack this week has been fulfilled by my tasty date nut bran muffins I made.
I topped a plain one with cashew butter.  Yum!  I had some asparagus that needed to use before it went bad, so obviously I made Mama Pea's Roasted Asparagus with Balsamic Browned Butter.  We literally cannot get enough of it; itz SO good.  Fit2Flex recently posted a Healthy Turkey Sloppy Joe's recipe, and seeing that this was right up Jonny's ally, I gave it a go.  However, I did use black beans instead of pinto beans, and I added carrots, and a yellow pepper in addition to the red.
The verdict?  Very good!  However, I definitely over-served the sloppy joe's and/or our sandwich thins couldn't hold the filling.  The bottom piece of the bun became soggy and fell apart during the first attempt to pick it up.  But have no fear…
We still made it work!  Taco sloppy joe's!  It was very good and I made an enormous batch, so we'll be enjoying leftovers (and I won't have to cook) for a couple of days.  Yay!  And I know you just know what I have been having for dessert lately…
Chocolate-chip cookies!  (Gluten-free, too.)  Speaking of… have you entered the giveaway yet?  You could win the most amazing cookie mix I have ever tasted.  In fact, three of you could win, so hurry on up and enter now.
What has your dessert been lately?