Thank you so much for all of your congratulations on yesterday's post!  I can't stop smiling and am just honored to join such a wonderful community.  Enough about FitFluential (for now), let's talk influential eats.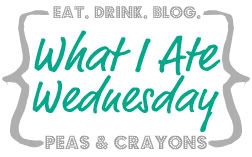 WIAW happens every Wednesday and is hosted by the lovely Jenn at Peas & Crayons.  I have a post full of good food, so get yourselves ready!  Breakfast was an unbelievable bowl that I was kind enough to make not only for myself, but for Jonny, as well.  "Now that's a healthy breakfast bowl, if I've ever seen one," he exclaimed.
In the mix: 1 whole egg, 2 eggwhites, kale, pinto beans, nutritional yeast, grape tomatoes, and salsa.  Yum is right!  My students go to specials at 9:15 and I'm not going to lie: I'm usually hungry by then.  Even with my protein-packed breakfasts, my tummy is still grumbling.  To my defense, I eat breakfast around 6:30, so having a snack three hours later is actually preferable.  Anyway, I have found a new love: homemade, healthy, iced coffee!
In the mix: lots of ice, 1 scoop of Sunwarrior chocolate protein powder, 1/2 cup of unsweetened vanilla almond milk, 1 cup of coffee, 1 dropper of NuNaturals vanilla, 1 dropper of NuNaturals cocoa bean, 1/2 tablespoon of ground flaxseeds, and 2 tablespoons of shredded unsweetened coconut, blended until smooth and served over ice.  Holy amazingness!  I try not to make it everyday because I don't like consuming that much caffeine, but I could definitely drink it everyday.  Like multiple times.  Way healthier and way less expensive than Starbucks.  Sorry I'm not sorry, Starbucks.
Let's talk lunch.  It's been the same ever since I got my beloved spiralizer.  Spiralized zucchini or squash, beans, other veggies, and sometimes a grain.  This week has been no different.
In the mix: squash, roasted cabbage, and pinto beans.  (Yes, pinto beans have been making an appearance in my breakfasts and lunches.  I am trying to finish them up from last Sunday during my batch cooking session!)  Since I like a little more protein with my meals, I always have some greek yogurt or regular yogurt on the side.
Confession:  I had frozen yogurt for dinner last night.  Sorry I'm not sorry (again).  However, yesterday was a cause for celebration, plus my girls' soccer team met at a local fro yo joint to celebrate their amazing 7 – 1 season.
In the mix: raspberry, cake batter, and dark chocolate topped with sprinkles. Mmm, mmm, mmm!  Fro yo is totally thebombdotcom.  I will show you a picture of a more balanced dinner that was consumed on Sunday at my in-laws.
We love colorful plates over there and this one definitely was!  (Side note: the more colorful your food is, the more nutrients it has.  With the exception of sprinkles.  Sorry, sprinkles, but I do still love you.)  Chicken and veggie kabob, baked beans, sweet potato, and asparagus.
This was the second time I made Mama Pea's Roasted Asparagus with Browned Butter, and both times were a hit!  If you ever need to please a crowd with a green vegetable, that recipe is the one to follow.  And when you get asparagus for $1.50 per bunch at the Farmer's Market, it makes it even better.
Is your plate usually colorful?