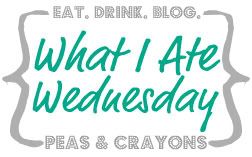 Stop shakin' in your boots already!  Here is what you've been waiting for!  Itz WIAW San Diego Style: Part 2.  (In case you missed Part 1, go ahead and drool here.)  Per usual, a big shout out goes to Jenn for hosting this tasty party.  If you are ever stuck for meal ideas, you should definitely check out all of the WIAW posts!  And now… the rest of our San Diego eats!
We rented a condo, so we had access to a full kitchen which was incredibly helpful in saving a few bucks as we cooked breakfast at home everyday.  Featured above was scrambled egg whites (made with 1 whole egg + 2 egg whites + a dash of almond milk for fluffiness = grayish colored eggs), a whole wheat English muffin topped with peanut butter, and surrounded by a pink lady orange!  Protein, fat, carb.  Check, check, check!
Before the awesome Farmer's Insurance Open, we stopped at Girard Gourmet Café in La Jolla for some lunch.  I ordered the roasted beet salad which was delicious.
My eyes were definitely bigger than my stomach because I feared that the salad would not satisfy me, so I also ordered the eggplant stuffed with spinach and cheese.  It was good, but the salad was enough and the cheesy eggplant was a bit heavy for such a warm day.
As a snack, I had a famous acai bowl.  Acai is a superfruit packed with tons of nutrients.  Plus, the bowl is topped with granola and a buttload of fruit which is awesomesauce.
Ocean-side coffee gives Boardwalk coffee a run for its money!  But I do prefer walking along the boardwalk rather than ordering at a restaurant.  Either way, the sites are beautiful!
Because I already showed you another one of our dinners in my Chef Boy Not Boyardee post, I am going to show you yet another fabulous lunch.
The day that we had to leave, we had a couple of hours to kill between checking-out of the condo and checking-in at the airport.  Justin recommended World Famous because of its patio seating and an ocean view.
I ordered the Breakfast Burrito; I am a huge burrito fan!  However, I asked the waitress to make several changes.  I subbed turkey for ham, broccoli for potatoes, and asked for the sour cream to be on the side.  See?  Healthy eating can be done while ordering out!  (Nixing the cheese would have been an even healthier option, but hey… I was on vacation!)  The burrito was humongous and equally delicious as it was large!
When Justin was driving us back to the airport, he said, "You guys sure ate well while you were here."  Well, ain't that the truth! 
Do you tend to eat out a lot while on vacation or do you cook your own meals where you are staying?