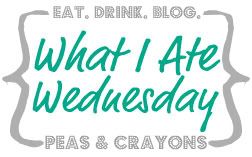 Since Jonny and I enjoyed SO MUCH good food in San Diego, I decided to save it all up to show you in two different WIAW posts!  (You'll have to wait until next Wednesday for the rest.  Try not to let the suspense kill you!)  For now, you can head over to Peas and Crayons and click around for more tasty eats and meal ideas.
We began our days with Boardwalk Coffee.  And what's better than Boardwalk Coffee?  Ocean Oats!  I made oats on the stove top (which is rare since I'm usually pressed for time in the morning) with vanilla almond milk and mixed-in bananas and peanut butter.  I always forget how different oats are when you cook them over the stove!  Thick, creamy, and delicious made all the better with an ocean view!
On Friday, our first full day in California, my brother left work early to meet us for lunch.  He took us to Pacific Beach Ale House and we sat on the rooftop.  In January.  It was awesome.
We were all ravenous, so we began with a Spinach and Artichoke Dip appetizer that definitely didn't disappoint.  We cleaned the bowl.  And asked for more chips!
I have to be honest here.  I had a dumb blonde moment.  I read on the menu: Blue Cheese, Mushroom, and Onion Burger.  I thought this sounded delicious and then our waitress asked how I wanted my burger cooked.  Woops.  And I thought this was a vegetarian burger.  Oh well, I had some cow, too.  The sweet potato fries were a nice treat.  This meal kept me stuffed until dinnertime.  Moo!
For dinner one night, Justin, Dana, Jonny and I went to Enoteca Adriano, a cute little Italian wine bar.  After we ordered a bottle of cab, the waiter talked us in to starting with an order of Burrata.  Burrata is a fresh Italian cheese, made from mozzarella and cream, and used as a spread.  They served theirs with Italian bread wrapped in prosciutto over a bed of tomatoes.  The burrata was topped with a fig.  It was unbelievable!
Jonny and I split a Spinaci Salad that entailed: fresh spinach, strawberry, gorgonzola, candied pecans, and a balsamic EVOO drizzle.
I chose the Pasta e Fagioli: a Tuscan white bean soup with pasta, carrots, and potato pancetta.  This soup warmed my stomach and made me want to instantly recreate it when we got home.
Jonny ordered the Penne Arrabiata:  Roma tomato spicy red sauce with a side of Polpette (homemade meatballs).  I snuck in several bites/shared with an unwilling husband.  😉  (Kidding!  Sort of.  He does love his food.)  All of us couldn't stop raving how delicious this food was!  At the end, the chef came out and told Dana and I that we would have to bring the boys back because it is always the women's decision anyway. 🙂
We definitely didn't go hungry in San Diego.  Stay tuned for next week's WIAW for more wonderful Californian eats!
What is something new YOU have eaten recently?