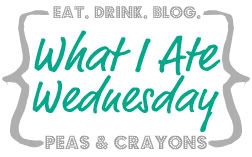 Here we are again… Wednesday, so it's WIAW over at Jenn's Peas and Crayons!  Today's WIAW includes many eats from my past weekend of eating.
Bagel, lox, and cream cheese.  Mmm mmm mmm mmm mmm!  Traditional Jewish food, almost always served at brunches during family affairs.  Since Sunday morning was the last big meal during our celebratory weekend, my in-laws hosted brunch and, of course, had plenty bagel, lox, and cream cheese.  (Among tons other food!)  BL&C was my brunch on Sunday.  Dinner on Sunday.  Dinner on Monday.  And we still have some left in the fridge.  Breakfast today?  Lunch today?  Both?  Maybe.
Trader Joe's French Onion Soup is for lunch.  Have you ever had this?  It's totally worth it if you're in the mood for some french onion soup.  I love it because it is portion controlled (unlike restaurants ginormous portions!) and the whole thing has about 210 calories.  The fat and sodium content are definitely higher than I prefer, but once in a while it's fine.  And tasty.  An Activia peach yogurt and an apple accompanied this soup.  Convenience was the word of today's lunch.
This was my starter salad from Bristol Seafood Grill and included watercress, feta, toasted pine nuts, dried cherries, tomatoes, and honey balsamic vinaigrette.  It was as good as it looks!
Also from Bristol, my main course of Barramundi and Lobster Mac & Cheese!  Dr. Oz claims that, "If the Barramundi fish were a human, he would be a tree-hugging, salad-loving vegetarian. The Barramundi, hailing from the coast of Australia, eschews his fellow fish, dining on plankton instead. That means he doesn't load up on mercury-packed smaller fish and has extremely low levels of the toxin, which is especially important for pregnant women. Free of mercury, but full of heart- and brain-healthy omega-3s, the Barramundi, which is becoming more popular in the US, is a shoe-in for one of the top 5 superfoods. Bonus: the white meat is light, flaky and delicious."  (source)
The Barramundi was good, but the lobster mac and cheese stole the show!  I finished every last bite!  Jonny snuck in a couple bites, but believe me, he didn't get much!  This side was definitely sinful, but acceptable since I don't order it all the time.  It was, after all, a very special occasion.  I got my fix. 🙂
Now, onto my LiveFit workout from yesterday.  See Day 1 here.  See the original plan here.  See my version of Day 2 below.
Day 2: Back & Biceps
Wide Grip Lat Pull-Down: 3 sets of 12 reps (40 pounds)
One-Arm Dumbbell Row (in lunge position): 3 sets of 12 reps each arm (12 pound dumbbell)
Rowing machine: 3 sets of 20 reps
Underhand Cable Pull-Down: 3 sets of 12 reps (20 pounds)
Alternating Dumbbell Curls: 3 sets of 12 reps each arm (12 pound dumbbells)
One-Arm Dumbbell Curl: 3 sets of 12 reps each arm (8 pounds)
Standing Biceps Cable Curls: 3 sets of 12 reps (15 pounds)
I definitely went heavier than I was supposed (it suggested going at 60% of max) and I really felt it and am already sore (another no-no on this plan).  I really like how it keeps all of the exercises for one particular muscle together.  It is a different way of working out than I am used to and provides a nice challenge!  Yay!  Tomorrow will be Legs and Calves!  Stay tuned!
Have you ever eaten Barramundi?  What is your favorite type of fish?