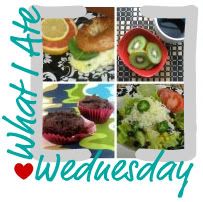 Itz WIAW Round 2 for me!  (Check out Round 1 here.)  A shout-out to Jenn at Peas and Crayons for hosting WIAW!  Be sure to click around and visit all the many eats shown today.  There is some truly beautiful food photography out there.  If you stick with me, you'll be left with some amateur pictures, but I promise the food is just as good!
Honey Whole Wheat Chia Seed Pancakes <– click for recipe
Julie re-posted that recipe during her Healthy Pancake Recipe Roundup and I couldn't resist trying them out for myself!  I'm not a huge pancakes-from-a-mix type of gal, but homemade?  Absolutely!  This recipe sure didn't disappoint either.  I had all of the ingredients on hand.  On my day off this week, I whipped up a batch and devoured them after a workout.  The recipe makes a generous portion, so as I was cleaning off my plate in the sink, I ate a couple more plain, sans syrup, caveman style: no plate, no silverware.  They were that good!  They were fluffy and soft and delicious.  The extras were supposed to be saved for Jonny.  Sorry, Jonny.  I think there are still 2 left… Better get home fast, babe!
Lunch was a lazy, but tasty one.  It was a B&J sandwich with an orange on the side! B&J?  Yes, B&J.  (Betchya glad I stuck that & sign in, aren't ya? 😉 Pervs.)  The B is for Biscoff Spread.  "Biscoff Spread is a delicious European alternative to peanut butter."  Lauren told me that her "new fave obsession" (and I quote) is Biscoff Spread and if I haven't tried it, I must!  Well, I stumbled upon it the other day (sorry, Lauren, I had already mailed your package when I found it!) and decided to give it a try. OHMYGOSH!  Go out and buy yourself a jar ASAP.  It is unbelievable.  Like I have had multiple spoonfuls in the past two days.  I decided to be a bit more civilized and spread it on bread for my B&J lunch sandwich.  The J is this jam which is even more delicious combined with the Biscoff Spread.
One of many snacks today was this Daily Mocha Mantra protein bar by 22 days that I received in December's Conscious Box.  Very satisfying, especially with 10 grams of protein and 5 grams of fiber.
Dinner includes a leftover spaghetti squash bowl.  (There is spaghetti squash under the mound of veggies!)  The sauce contained any and all vegetables I had on hand: mushrooms, broccoli, onion, and yellow squash.  I simmered it with an organic roasted vegetable marinara sauce and added some soy chorizo.  Very thrown together.  Very good.
That concludes WIAW Round 2 for me!  My pup is off at the spa groomer today, so she'll be looking extra snazzy by evening time.  After I pick her up, I need to finish a project I started a couple of days ago.  I've been feeling a bit crafty lately (completely NOT normal for me) and I'm almost done with this project.  I'll share when it is complete, but for now I'll just tell you that I am very impressed with myself. 🙂
What were some of your good eats from today?  Are you crafty?